Facilities & Infrastructure
SCHOOL BUILDING
A verdant landscape greets you as you enter. It is a perfect blend of style and aesthetic. The area has been perfectly planned to encompass educational sports and recreational facilities. The campus is pollution free, has uninterrupted power supply throughout the day and RO (Reverse Osmosis) filtered drinking water facility
EDUCOMP SMART CLASSES
Equipped with the latest multimedia courseware which includes the Educomp 'Smart Class' programme, the classrooms of the school are linked to the outside world through technology, making them lively and vibrant learning platforms for students. The Educomp Smart Classes are fully equipped with wide panel display systems, computers and embedded multimedia white board systems on which videos, animations, live images and captivating graphics related to curriculum based topics, are shown to students. The smart class 'knowledge centre' provides a vast repository of over 30,000 digital modules of various topics which are made available to teachers to work with as part of their lesson plans.
Teachers in each grade level collaborate on cross-curricular lesson activities. In co-ordination with the dedicated computer department, they display relevant websites, interactive multimedia clips, presentations and other reference material on the SMART Interactive Whiteboard, to reinforce key concepts and engage students in group discussions.
LIBRARY
The library is well stocked, with internet connectivity, easy access to books, journals, magazines, newspapers and encyclopedias.
The Library's mission is to foster independent, life-long learning through collaboration, providing information & learning resources, instruction and technology.
LABORATORY
Laboratory: The school provides well-equipped and state of the art laboratories, which are continually upgraded. The focus is on challenging the student s to explore new ideas and learn by doing, they are provided opportunities to question, explore, examine, hypothesize and draw inferences thus building a scientific temperament.
Computer Laboratory
To meet the challenges and demands of the modern fast-paced world, students need to be techno savvy. Well-equipped computer labs with high end computers and carefully monitored internet connectivity , prepare our young learners for the IT driven world There are separate high tech Computer Labs for Junior & Senior Wings of the School with internet connectivity to make the students tech-savy and to keep them abreast with the latest. Students learn to use technology as a tool to assist them in all subjects'.
INFORMATION TECHONOLOGY
BVPS is equipped with the latest School Management Software. Regular information regarding day to day activities is e-mailed to parents. Even SMS messages are sent to parents in case the school wants to communicate anything urgently. Each parent is given a login ID and password to login to the school website. They can access their kids Academic Progress Report, Attendance Report, Class teacher's remarks, status on fees, health and Library books. They can even use the internal messaging system to contact the teachers.
LIFE SKILL LABORATORY
The school supports an education system that emphasizes experiential learning. The focus is on challenging the students to explore new ideas and learn by doing and taking part in activities which would allow the strengthening of the basic concepts, and instilling confidence in them.
ARTS
The goal of art education at Bal Vikas Progressive School is to bring out the creative, expressive and aesthetic potential of each child, and to promote the attitudes, thinking and discipline necessary for all types of learning. Our art curriculum ensures cultivation of instruction that fosters the ability to take in and receive meaning and insight from artwork and performance while at the same time, include new modern forms, taking along the rich world heritage of classical, folk and tribal art forms.
Music and Dance: We put a lot of emphasis on valuing a child's interest in music and dance and strive to ensure that children get ample opportunities to nurture their talents. Regular dancing gives the students an overall sense of well-being, and builds their endurance and strength.
Art and Craft: Art for most children is a natural form of expression and a source of great pleasure. We encourage children to develop their creative and imaginative talent through learning skills and techniques, and by using diverse materials and tools.
Under craft, we provide students with opportunities to work with a variety of materials such as wood, clay, textiles and food.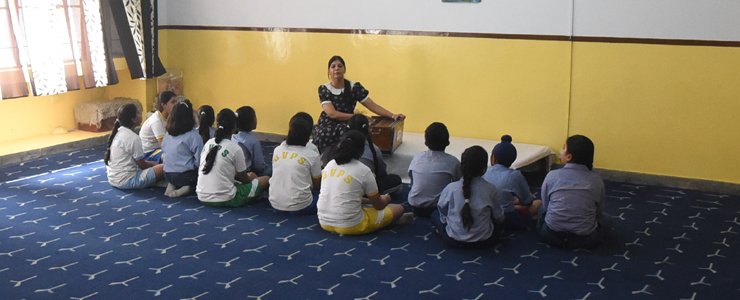 SPORTS
The school promotes and encourages a number of sports activities so that our students are active, alert and mentally balanced individuals. Among the plethora of values that sports infuse into a child, there are four that we believe are extremely vital for day to day excellence, discipline, patience, team spirit, and dedication.
In addition to the two periods a week compulsory allotted to physical education, one period a week (from the 3th grade upwards) is allotted for yoga and one period for club activity. Professional swimming and athletic coaches are available to train the students and ensure that they become ace performers.
The school offers
Basketball
Football
Volleyball
Kho-Kho
Taekwondo
Cricket

Swimming
Badminton
Lawn Tennis
Athletics
Skating
Table Tennis
Adventure Camps
Adventure Camps are a regular feature of the school. These camps not only boosts self-esteem among students, but also shows improvement in other measurable aspects of life. Students tend to feel more in control of their lives and their decisions, reflecting a healthier self-image and self-confidence. Improved participation in group efforts is also an outcome of such educational programs, and students often learn the benefits of teamwork, constructive criticism and encouragement.

HEALTH CARE
Periodical check-ups are conducted by a visiting team of specialists and a health card is maintained for each student for a follow-up, with the parent.
First Aid
If a student becomes sick at school or gets hurt first aid is rendered immediately. If any further aid, not available in school is required the students are immediately taken to the Hospital in Model Town.
TRANSPORT
The school has a fleet of 18 buses which are driven by experienced drivers. Each bus has a teacher in-charge and a maid who is vigilant while a child is boarding and getting off the bus
Counseling
Growing up with the pressures of contemporary demands and lifestyles is not easy for a child. Our Counseling Centre guides our students and parents to help them cope with both academic and psychological pressures.
Expert counselors help children deal with behavioral fluctuations and adolescent issues. They also help the students choose careers that best suit their talent and liking. The counseling instills a positive attitude, trains them to prioritize and most importantly to believe in themselves